Gastronomy is one of the most important things in the cultural life. However, it is one of our basic needs as the Maslow pyramid shows: the psychical needs as food, water, warmth, and rest. Besides this fact, there is a hidden diversity of all kinds of food. It is influenced by many factors. What kind of primary commodity do you use? What do you consider as a kitchen tool? How do you make the food to be digested easily? What is your tradition? Who do you learn to cook from? There is an endless possible variety of these questions and answers.
There are significant differences between nations. And one important thing I would like to warn you, Hungarians eat salty, with a lot of bread and plenty of meat so vegetarians have to be aware and rather choose from the dessert section. The nations could be a way of categorizing food. Because tradition is a huge part of it as it 'goes father to son', more precisely 'mother to daughter'. Hungarians also have a special connection with the number three. It is believed that the third time is the best and that contains the luck. Also, there is a Hungarian version of the phrase: Third time is the charm. which sounds like this: Három a magyar igazság, egy a ráadás. To be precise it is extended with a clause which says "and one on the top". So, in total is like an addition 3+1. That's why I add one more food to the promised 3+3.
Hungarians are especially proud of their food because it is recognized and liked by several nations. For examples, Germans are fond of Kürtöskalács (in English is the Chimney cake), they can't imagine a Christmas market without it. Moreover, the worldwide famous Gulyás which word can be found in English too, although with a different pronunciation.
Main courses:
Halászlé –Fish soup
It is a main course although it has the word soup in the name but it rather refers to its liquid consistency. As it is known, Hungary does not have a sea so all the fish come from freshwater. It is different in every region how it is made but one ingredient can never miss which is the red pepper. It does not mean it is spicy. Thanks to the freshwater fish it is not that salty and the spice – although it could be very hot – also have a pleasantly sweet taste and a beautiful red colour. It is worth to try it but watch out with the bones! (Moreover, you should try it with bread because Hungarians are big bread eaters since it is a perfect match to these food.)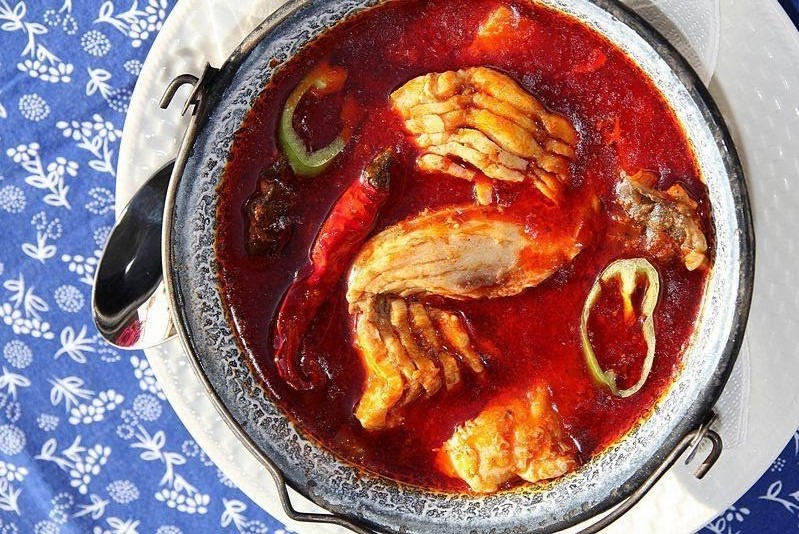 2. Gulyás – Goulash
It is another soup which is more like a main dish. It originally came from the Medieval times and spread all over Europe. It contains meat and vegetables and unique seasoning and, of course, paprika. If it is not spicy enough for you Hungarians sometimes put 'Erőspista' in it. It is a red cream that is made of spicy red peppers. Also, for this dish bread is recommended.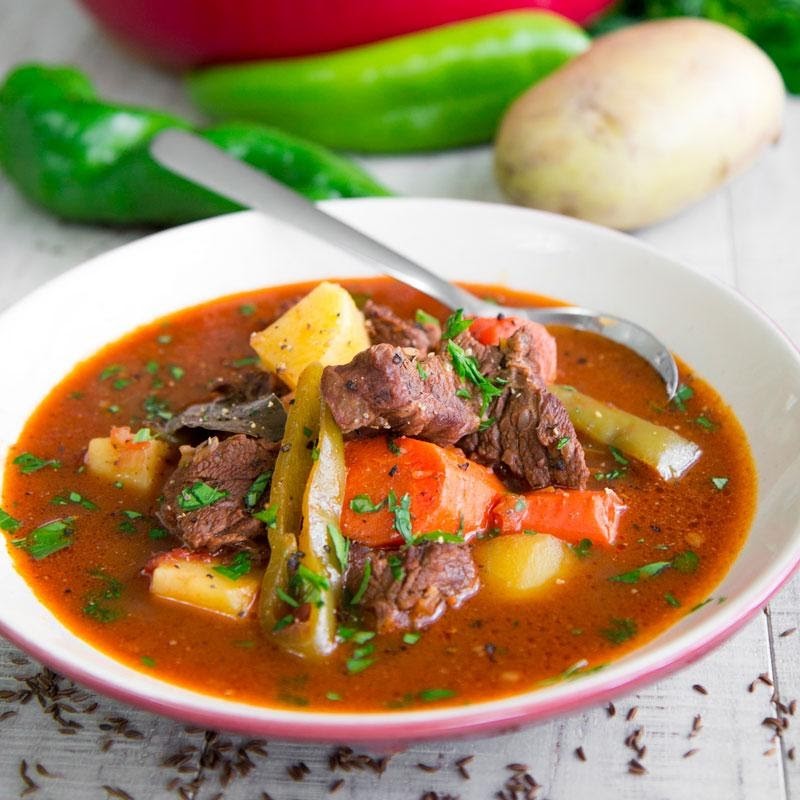 3. Rakottkrumpli – Laid potato
This food has French roots, but Hungarians worked on the recipe to be one of our memorable dishes. It is a baked dish with several layers as the name shows. It is difficult to make thanks to the separate cooking process but hard to ruin. The most important never changing base ingredients are the potatoes, eggs, sausage, cheese. But you will find other altered versions which are worth trying!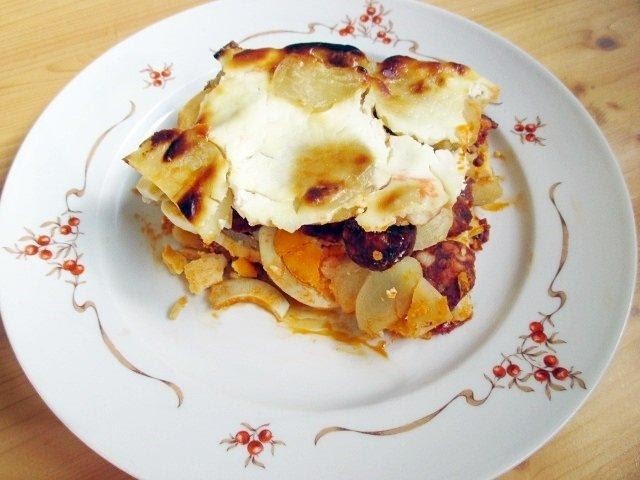 Desserts:
4. Madártej – Floating island
This desert also has some French roots but if you were a child in Hungary this food is really close to your heart. The way of making the eggs into madártej is a miracle. The look also: the yolk with milk and some sugar give a beautiful base of the steamed egg white with sugar which are called 'clouds'. As to prove our attachment to this food you can find several products in the flavour of madártej. For example, lots of types of milk products and beverages.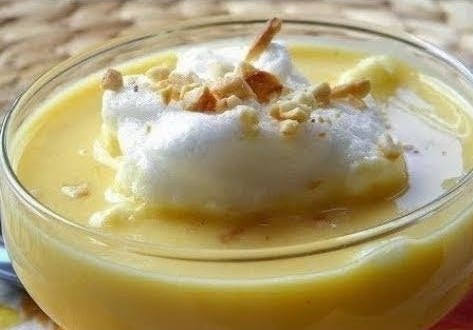 5. Rétes – Strudel
To favour the older generation, their favourite the Rétes. Its cake dough has a lot of fragile layers that gives the specialty. The filling is usually cottage cheese, sour cherry or apricot, but it could be filled with anything and still be delicious.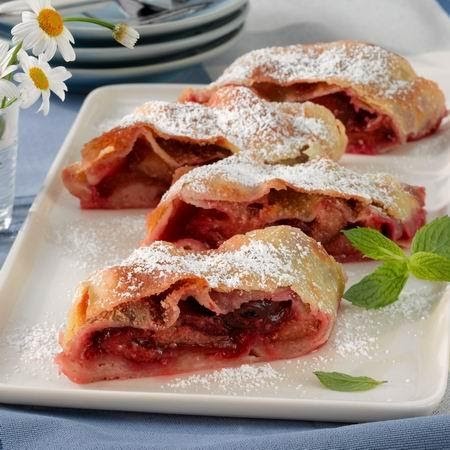 6. Lekváros papucs – Apricot kolaches/bow tie cookie
This specialty made of a linzer based cookie dough and filled with apricot jam. But the filling there could be also any type of jam as plum, sour cherry… This is one of my favourite desserts because besides the good taste it has a unique look. Like an apricot jam-baby wrapped in swaddling clothes.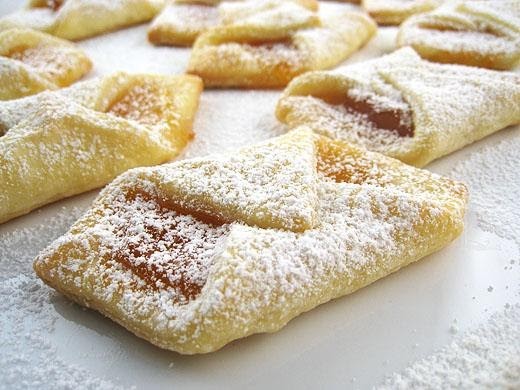 +1 Kürtöskalács– Chimney cake
It is easy to find this specialty in Budapest because it is sold in every corner. Moreover, you do not have to see to find it thanks to the incredible smell of it. It also has a certain look because of the way it is made. It is a long dough twisted around a block of wood and is slightly grilled on a fire 'till it reaches the perfection: crispy on the outside, a soft warm sweet miracle on the inside.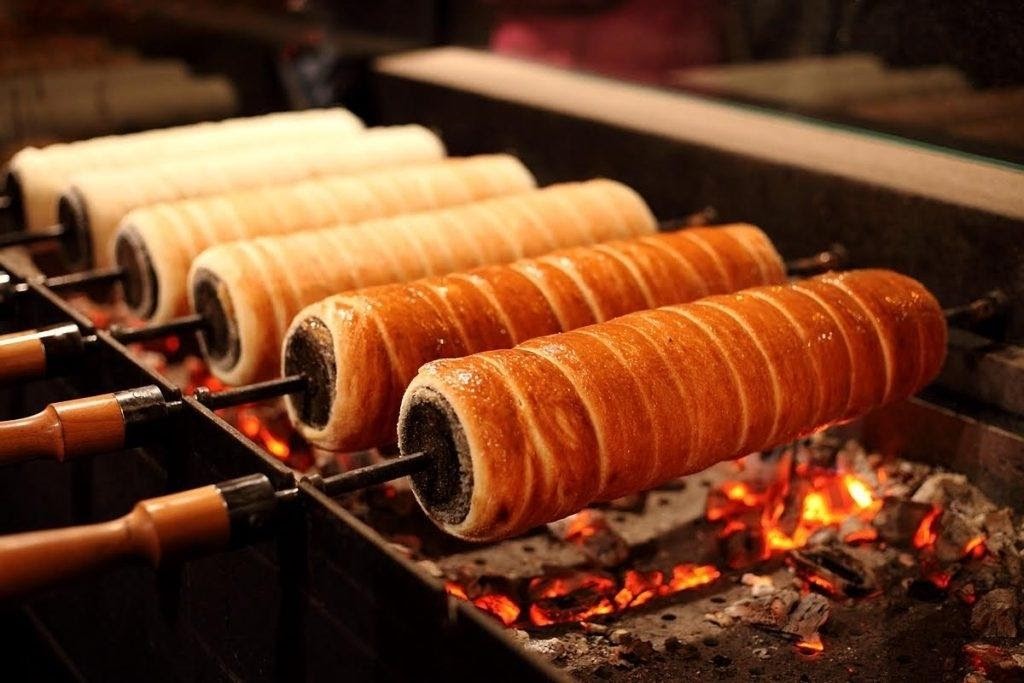 I hope you can find something which has caught your interest. It is worth to try the Hungarian cuisine and reveal every other unique beauty that the country could offer you! Have a nice meal or as we say in Hungarian: Jó étvágyat!
Pál Janka